Sylvia Lee Mann -
Music and Ministry: Pastor, Conductor, Composer, Performer, Violist, Artist, Speaker.
Welcome to the Sylvia Lee Mann website. You will find my conducting reel,  Music for Film, for Orchestra, for Theatre, for Chamber ensembles, for Chorus, For YOU!
Check out this "Musician Monday Sampler" Reel - 
You'll be able to listen to music, look at videos, find out about concerts, look at pics, and go to the "CDs, Music & Stuff" page to find Sheet music (order or pdfs instantly!), CDs, T-Shirts, Mugs,and other goodies. Who knows - maybe, just maybe, you'll find exactly what you need. Just use the navigation links on the left to find your way around!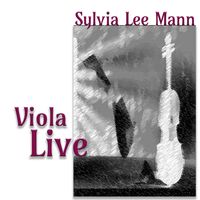 GREAT CD - Viola Live (features live recordings of Sylvia Lee Mann's viola performances) includes:
Capriccio 'hommage À Paganini', Op. 55 (Op. 9 Posthumous) for Solo Viola by Henri Vieuxtemps
Kol Nidrei, Op. 47, for viola and Orchestra by Max Bruch
Solo Cello Suite No. 3, BWV 1009, Bouree I & II (for viola), by Johann Sebastian Bach
Violin Sonata No. 1 in G Minor, BWV 1001, I., Adagio (for viola), by Johann Sebastian Bach
Suite No. 1 for Viola Alone, Op. 131d, by Max Reger (complete)
Purchase HERE
Also available at CDBABY - Digital and CD form
Amazon, ITUNES, GOOGLE Music, Rhapsodym etc..digital version,
Conducting reel:
A collection of musical excerpts and examples, featuring conductor Sylvia Lee Mann. 

Includes portions of Beethoven's "Egmont" Overture, Emperor Concerto and Eighth Symphony; Holst's "St Paul's Suite", Bach's famous "Air" from the Suite No. 3; Khachaturion's Sabre Dance, Dvorak's Cello Concerto, Adrienne Albert's "Boundaries", Rachmaninoff's 2nd Piano Concerto, and more.
Composer reel:
Need music for your film? - here's a reel of some samples of my music for films and videos
  
Please join the email list to receive occasional updates about the website - like when new tracks are available, or new items are added. (The list is NEVER sold, and there is always a chance to opt-out - so go ahead - join.)
Want to commission music for your ensemble or media project? Worried about cost?
Financing is available through "Bill Me Later"
Sending files -
Sylvia is always busy in the Southern California Area...  Sylvia is a pastor, composer, conductor, performer, artist, speaker and educator. She plays viola, violin, piano, keyboards, a bit of celtic harp, guitar and flute.
By the way - if you want to book Sylvia for a show, just email smann@sylvialeemann.com
or call! (626) 869-6724 
For a great selection of sheet music for all instruments, visit Virtual Sheet Music - get your music instantly! just click below
Visit Me on Reverb Nation
Visit more sites with Sylvia:
0:00/3:21

0:00/1:54

0:00/0:54

0:00/0:13

0:00/1:37

0:00/5:02

0:00/2:31