Sylvia Lee Mann - Conductor, Composer, Violist, Artist
Dr. Sylvia Lee Mann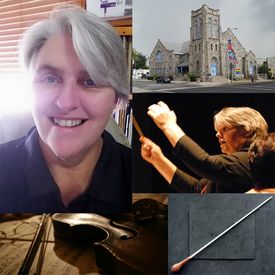 Dr. Sylvia Lee Mann  - composer, conductor, violist, author, speaker and multi-instrumental performer, appears with many musical ensembles in the Southern California area and across the nation.  Currently on the faculty at Chaffey College and St. Teresa Open Catholic Seminary, Dr. Mann has also served at California State University Dominguez Hills and Centenary College.  She is the Music Director & Conductor of the Southland Symphony Orchestra and a popular guest conductor throughout Southern California. Dr. Mann is the Pastor & Minister of Music at Bethel Congregational Church, UCC, of Ontario, CA, as well as the Artistic Director of Bethel Arts. A frequent performer with The Chamber Orchestra of the South Bay, La Mirada, Temecula Valley, Coachella Valley and Whittier Regional Symphony Orchestras, a collaborator with the Repertory Opera Company and Desert Baroque, she is the principal violist of the Culver City and Marina del Rey Symphony Orchestras.
Sylvia began her musical studies at age 4 and was performing her first professional "gigs" just before her 14th birthday. She completed undergraduate studies at Chapman College, and graduate studies at the University of Southern California & London University. As a violist and violinist, she studied with many distinguished teachers, tracing the pedagogical line back to Ivan Galamian.  As a composer, her mentors include William Kraft, Gunther Schuller, and Samuel Adler. Her conducting studies included such notable pedagogues as John Koshak, Hans Beer, Daniel Lewis, James Vail, Rodney Eichenberger, Gunther Schuller, and Neville Mariner.
Originally from Los Angeles, Dr. Mann resided in Louisiana from 1987 - 2002, where she served as the principal violist of the Shreveport Symphony Orchestra, the Baroque Artists of Shreveport and violist of the Premier String Quartet, and was the Director of the Ark-La-Tex Youth Symphony Orchestra program. She also enjoyed performing with the popular all-woman rock band, "Lip Service" and was the recipient of the Shreveport LA Regional Arts Council's prestigious Music Fellowship Award.
Sylvia's music is heard on the concert stage, in film, television, and media outlets. Works have also been commissioned and performed by many orchestras, and she was featured in the Culver City Symphony's historic concert, "The American Beat - Women Composers". Dr. Mann and her orchestras have been recognized by the City of Ontario and the City of West Covina. The County of Los Angeles, and L.A. County Fair recognized her as a "Community Hero" for her work in the arts, and she received "Woman of the Year in the Arts" awards from the California State Legislature and the US House of Representatives. She has also received multiple awards from CSUDH for her scholarship, research and creative activities, as well as for her outstanding participation in the CSU/CSUDH Affordable Learning Solutions Initiative and contribution to student learning. She is an ACME Honoree of Mu Phi Epsilon.
More information about Dr. Mann, her performances, appearances and original compositions can be found at http://sylvialeemann.com.
visit me on reverb nation
Visit more sites with Sylvia:
0:00/3:21

0:00/1:54

0:00/0:13

0:00/0:54

0:00/1:37

0:00/5:02

0:00/2:31